The holidays are almost here! That frosty air is settling in and festive Christmas lights are going up. If you're scrambling to get ready for this Christmas season, Christmas decorations may be on the bottom of your to-do list. Luckily, Sacksteder's Interiors can take the stress of Christmas decorating off of your shoulders! Cozy up by the fire, sip hot chocolate and relax while we take the reigns with our Christmas Decorating Services in Cincinnati and New Trenton. Of course, if you're more into DIY, use some of the holiday decorating tips and tricks below:
Have you ever noticed that the Christmas tree tends to be the focal point of most homes? Each tree is as individual as the people themselves. Stop by at one of our stores to get ideas from Sacksteder's designers on how to personalize your tree. Come see the amazing array of beautiful ornaments, garland, and greenery. Be sure to check out the festive winter wreaths that will be sure to impress your guest upon arrival. Most importantly, don't forget the centerpiece for the coffee or dining table.
Don't you just love visiting a home where the owners take an enormous amount of time decorating for the holidays? Unfortunately, we all don't have the time(or energy) it takes to create and display such an elaborate array of decorations. I swear, some of the homes I have visited must have had an army of Santa's mythical elves to help them pull it off—but even some small touches here and there will add to the magic of this Christmas season to your home:
Home for the Holidays
Every year, the holiday season brings a new experience. Who doesn't have fond memories of friends and family gathering around the table to celebrate the occasion? The clink of glassware and silver on the china, the warm glow of flickering candles and lively conversation cast an enchanting spell on all during this special season.
*Place miniature Christmas trees in unexpected places—such as guest rooms and bathrooms. Guests will be surprised and delighted with the extra touches you provide.
*Holiday scented candles such as Balsam and Cedar or Red Apple Wreath placed strategically throughout the home –especially in the bathrooms--will give the guests an aromatic experience sure to delight.
*Place a cookie sheet lined with foil. This is a quick and easy way to make your kitchen smell delightful! Sprinkle the foil with cinnamon. Place in your oven on low heat. Your kitchen will be filled with the cinnamon fragrance!
*Pick up a few pine bough branches and some garland: These items dress up your home in no time. Couple them with a few premade bows and you're ready to start slinging pine needles everywhere. Here are a few ideas for using these evergreen decorations.
*Use garland to swag or wrap around staircase banisters: Add bows where the greenery meets the handrails, and you have no-fuss decorating in a flash.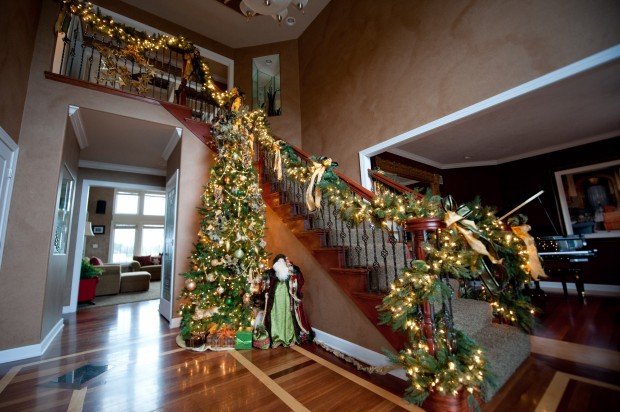 *Remove everything from your fireplace mantel and place a long piece of garland on it, letting it drape down both sides of the fireplace: Don't have a fireplace? This trick works for tops of bookcases or shelves, too! Wire in a few ornaments, attach cascading oversized bows to the draped edges, and reassemble your fireplace mantel decorations, moving the garland in and out of your décor. Place a few tall candlesticks on one side, and you have a lovely focal point to your room.
*Attach a long piece of garland about a foot over the top of a large mirror or painting hanging over your fireplace: Drape and attach the sides of the garland to surround the painting or mirror. Add a beautiful wreath at the top or an oversized bow to complete the picture
*Weave garland in an out of casual chandelier arms. Swag the garland if you like. Add a beaded garland to give it sparkle or purchase crystal chandelier pendants and hang them from the garland. The light sparkles through them and adds a hint of shabby chic to the room.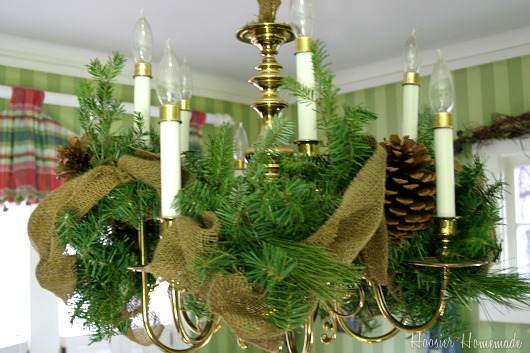 *Weave and wind lush strands of garland in and around the tiers of your buffet table before you set out the food: Tuck sprigs of berries, ornaments, fruits or vegetables, or other decorative items into the greenery, or just leave it alone. It's beautiful, plain and simple.
*Place a few pine bough branches around a tall pillar candle on a table runner: You now have an instant centerpiece. You can also use pine boughs as a decorative swag over doorways or on the edges of bookshelves.
Holiday

Bling
Everyone loves the holiday lights—somehow, everything just seems to sparkle and glisten just a little brighter! Along with the holiday décor, why not deck yourself out too?
RETAIL 38.99 set
RETAIL $19.99
One way to be sure that you don't get lost in the crowd on a Girls' Night Out is to wear eye-catching jewelry that will add wow to this season's brights and metallics. Stop by one of our stores to see the array of necklaces, bracelets and earrings that is sure to create a focal point and complement your outfit. Try mixing it up with armfuls of bracelets, double up pendants, and flaunt a quirky collection of amulet necklaces. Party on!
Retail $38.99
Of course, if you're as busy as most during the holiday hustle and bustle, you can trust our Cincinnati and New Trenton Christmas design experts to spruce up your home! We provide in person consultations, so we can design your home with Christmas decorations that speak to your unique personality. Looking for the best New Trenton & Cincinnati Christmas Decorating Service? Look no further! Trust Sacksteder's Interiors in Greater Cincinnati. Call us today at 513-791-5022 to get started!